22 Dec 2016

8:39 PM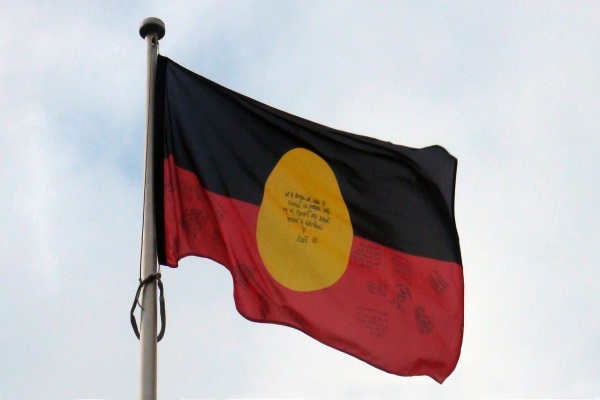 Aidan had the great opportunity of walking the Kokoda Track with a great group of Indigenous people, who shared their culture and learnings with him, as they followed in the footsteps of lesser known Indigenous soldiers who fought on the Kokoda Track. It was part of a Leadership course that has gone on to make a huge positive contribution to making this country great. One of the requests at the end was to see the Flag fly at arguably one of Australia's most important battle sites.
One of the great honours this past few years was to be able to fly the Indigenous flag at Isurava battlesite in memory of all the Indigenous soldiers who died on the Kokoda track and beachheads. Harry Saunders of the 2/14th was foremost in our minds as was Archibold and others. The flag came about by way of an Indigenous program that was set up to provide Indigenous young people and their mentors with opportunities to participate in a leadership training program that increases their capacity to create and lead positive and lasting change within their lives and their communities. The flag was given to me by all those that were present, I'm pretty sure it may have been the first time that this flag flew at this iconic Australian battlesite.
To be chosen as the provider of that track was a great honour for so many reasons. To be able to spend valuable and quality time with these participants, to listen and to learn from them was incredible. Over the years I have created and run events in the NT and have had access to and love the Indigenous culture, the constant in feedback from clients upon conclusion has always been "how come this unique knowledge is not being taught at school?" I don't know……See, Cultural learning allows individuals to acquire skills that they would be unable to independently over the course of their lifetimes
On the basis of cultural learning, people create, remember, and deal with ideas. They understand and apply specific systems of symbolic meaning. Cultural learning is dependent on innovation or the ability to create new responses to the environment and the ability to communicate or imitate the behavior of others (Chang, et al., 2010). (Lehmann, Feldman & Kaeuffer, 2010).
The knowledge of individuals, taken as a whole, is far greater than that of any commission or board, however diligent and expert.