Aidan Grimes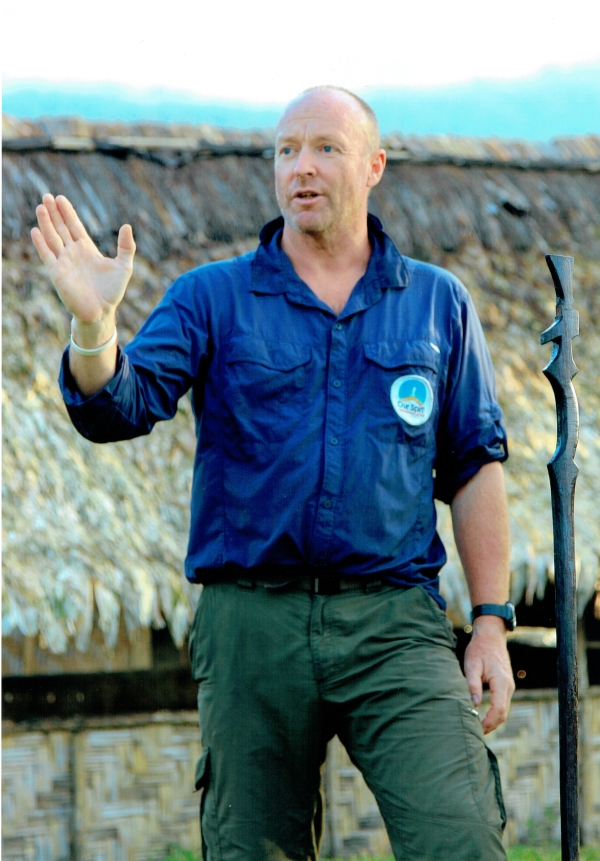 Aidan has led more groups across the Kokoda Track or the Black Cat Track for Our Spirit than any other individual or organisation. His leadership provides the basis of our unrivalled safety and success record to date. His knowledge of the terrain and his physical ability in this difficult environment are second to none.
Aidan's understanding and insights into the history and military campaign relevant to Australia are widely recognised. In fact, he was presented with the "National RSL ANZAC of the Year Award 2012" in recognition of his "exceptional service to the Australian Community demonstrating compassion, endurance and dedication" as cited on the medal. Additionally, he is an honorary member of the 2/14th and 2/16th Battalions, an acknowledgement that demonstrates his deepest respect for the Australian Military whom provide us with the freedom we enjoy as a nation today. On the Kokoda Track, the elders refer to him as Uda Baroma (Wild Pig) or Uda Lauma (The Spirit). The local elders have a huge amount of respect for Aidan as evidenced when one of the elders at Vesulogo Village named his son after Aidan.
In November 2015, Aidan led his 100th Kokoda trek in the 100th year of the ANZAC's finishing in Port Moresby for Remembrance Day. This is a phenomenal achievement and one which will never be repeated.
Aidan continues to hold the track record as the most successful Kokoda trek leader with more than 120 crossings to his name. On ANZAC day 2019 Aidan was awarded the Queen Elizabeth II Diamond Jubilee Medal by the Governor General of PNG in recognition of his service to PNG. For more information, check out Aidan's BIO
Jim O Brien
Jim has over 30 years experience leading groups into extreme environments and specialises in military tactical nous. Having spent over 20 years in the SAS and being in many theatres of active service, his experience is second to none. Not one for talking about himself, his demeanour is such that he is very much sought after as a guide and trainer.
Mary Bergin
Mary has a Master's of Business degree and specialises in Team building and what makes the best …the best. Her presentations are so informative and allows the audience the opportunity to see how her information can be applied to their situation. She is also a wilderness guide and loves to explore the treks of the world and forms a very important part of our team.
Wayne Sheridan
Wayne's love for nature and walking makes him one of our trekkers favourite guides. He is also a Psychologist and Counsellor of 17 years and has a keen interest in creating personal initiatives to support clients become the best they can be. After 8 years in the Army he decided to take that experience and qualification into the corporate world.
Veronica Martin
Veronica has extensive experience in exercise physiology and is very sought after by many planning extreme adventures where the highest levels of calculations are required. She has a Phd in physiology and is also a very keen trekker. Her values and understanding of success align perfectly with ours.
Alan O Neill
Alan is a qualified Doctor and specialises in trauma care. He has a love for ll things outdoors and spends all his free time hiking in remote locations both here is Australian and overseas in far flung destinations. He brings to the team a high level of expertise that forms a major part of our knowledge in the medical field.