Aidan Grimes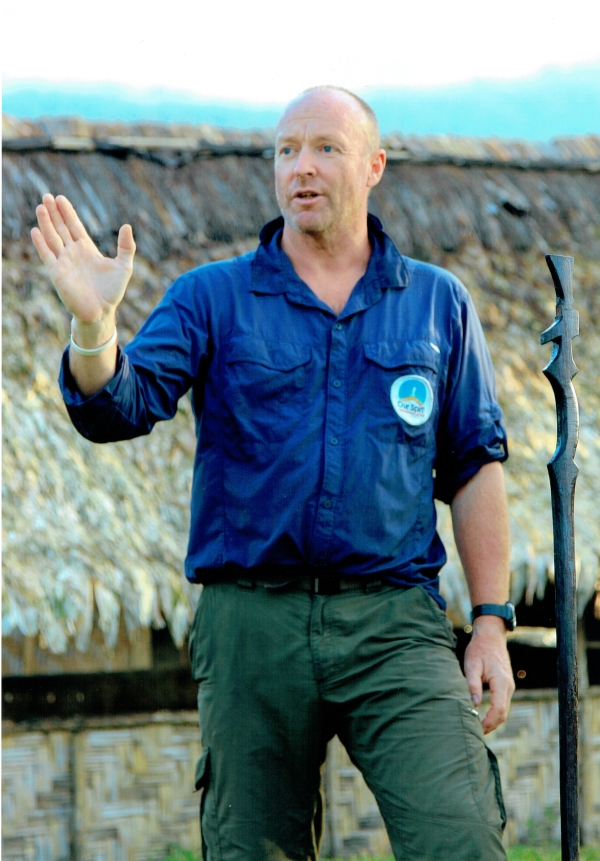 Aidan has led more groups across the Kokoda Track or the Black Cat Track for Our Spirit than any other individual or organisation. His leadership provides the basis of our unrivalled safety and success record to date. His knowledge of the terrain and his physical ability in this difficult environment are second to none.
Aidan's understanding and insights into the history and military campaign relevant to Australia are widely recognised. In fact, he was presented with the "National RSL ANZAC of the Year Award 2012" in recognition of his "exceptional service to the Australian Community demonstrating compassion, endurance and dedication" as cited on the medal. Additionally, he is an honorary member of the 2/14th and 2/16th Battalions, an acknowledgement that demonstrates his deepest respect for the Australian Military whom provide us with the freedom we enjoy as a nation today. On the Kokoda Track, the elders refer to him as Uda Baroma (Wild Pig) or Uda Lauma (The Spirit). The local elders have a huge amount of respect for Aidan as evidenced when one of the elders at Vesulogo Village named his son after Aidan.
In November 2015, Aidan led his 100th Kokoda trek in the 100th year of the ANZAC's finishing in Port Moresby for Remembrance Day. This is a phenomenal achievement and one which will never be repeated.
Aidan continues to hold the track record as the most successful Kokoda trek leader with more than 120 crossings to his name. On ANZAC day 2019 Aidan was awarded the Queen Elizabeth II Diamond Jubilee Medal by the Governor General of PNG in recognition of his service to PNG. For more information, check out Aidan's BIO
Peter Thatcher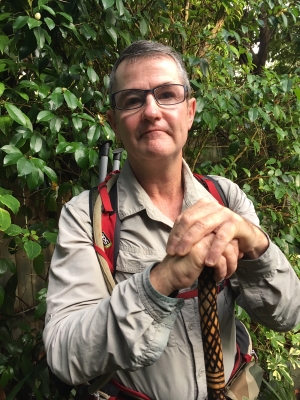 As a Trek Guide, Peter Thatcher relies on his technical, interpersonal and communication skills combined with common sense to successfully lead groups through the rugged terrain and the emotional journey that is the Kokoda Track. Peter is an innovative and reliable Manager, Trainer and Leader who has gained his experience following 39 years in the Australian Army.
Most recently during fulltime Army service Peter managed the Soldier Recovery Centre, Brisbane. He developed and implemented programs to assist with the rehabilitation of wounded, ill and injured soldiers. Peter remains an active Army Reserve Soldier currently managing the Defence Work Experience Program at Gallipoli Barracks Enoggera. A major component of the Program is to educate students about the Kokoda Track.
With his father having served with the RAAF during WWII and seeing action in PNG, Peter has always had a keen interest in the history of the brave soldiers who found themselves on the track and is passionate about getting the message out to others about the importance of those soldiers bravery despite the terrible adversity they faced. Peter firmly believes from those war ravaged days to this day and beyond that the sacrifices those soldiers made on the Kokoda Track should never be forgotten.
Peter's time on the Track has developed a deep appreciation for those who call PNG and the Track home and he is passionate about assisting young Papuans to be the best they can be.
Peter is qualified in advanced first aid and resuscitation and is an experienced Manager of Emergency Response Operations.
"Kokoda Track; the Experience"
For me, walking and experiencing the "Kokoda Track" is a very important part of being an Australian. The "Kokoda Track" is alive with the constant reminders of the terrible battle that raged along it in 1942. Memorials, monuments, helmets, weapons and other paraphernalia of war lie littered along this simple thoroughfare giving stark testimony to the deeds of that time.
To experience a little of the sacrifice and hardship endured by young Australians on this track in 1942; can inspire you to overcome any adversity you may face in life. Understanding what these few courageous men achieved against overwhelming odds will serve as a constant inspiration for you as you face up to all of life's twists and turns.
Walking the Kokoda Track is not about the glorification of war, it is all about remembering those brave young boys who stood tall and refused to yield. They sacrificed their youth and for many their lives, so that we would have a better life and future.
I challenge you to walk the Kokoda Track, to take time to remember those brave souls who gave so much. You will come away a better person; I know I did.
Owen Turner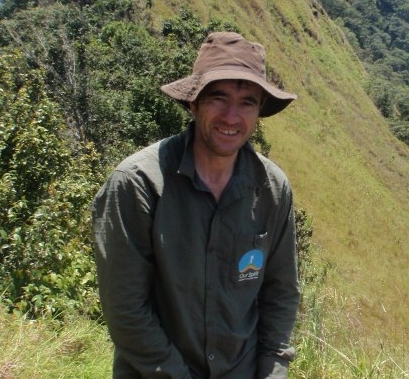 National Park Ranger, Owen Turner is a highly qualified Kokoda and Black Cat Trek Leader and has led more than 28 treks with Our Spirit.
Owen's position as Ranger (covering Blue Mountains, Hunter Ranges and Northern NSW Coast regions) over the past 29 years has given him extensive experience in natural area management, wildlife interpretation and naturalist skills.
Combined with his active interest and passion for PNG and Kokoda military campaigns (particularly in the Wewak area where his father fought with the 2/3rd Bn), Owen is a crucial member of the Our Spirit team and a popular leader.
He is a keen adventurer, favouring remote mountainous bushwalks, caving, climbing and wild river kayaking and in recent years cycling. Owen also holds current "Wilderness First Aid" certification and is well versed in remote emergency and safety procedures but maintains our exemplary safety record.