Team Activation Program
"Turn on the T.A.P"
Organisations are often heard to claim that the most important asset they possess is their workforce. If employees were to be asked what his or her own most important asset was, they would almost certainly reply that it was their personal health. If personal health is important to all of us, and if the most important asset of the company is the people it employs, it seems logical that all organisations should take an active interest in the health of their employees.
Team Activation Program
"Turn on the T.A.P" to Vitality
We at Our Spirit have seen the direct and cost effective benefits of our Business Health & Lifestyle programs for over 30 years. In this time our clients have included Microsoft and Computer Associates, Intel, 9MSN, Apple, NSW Police as well as many of Australia's leading executives and business leaders.
The team of experts at Our Spirit has just developed a new, even more effective program called T.A.P – Team Activation Program. T.A.P includes a number of automated online components, making delivery of health and well being services to your organisation easier, faster, and more effective. However the structure is such that it is flexible in design, economical and fully accountable allowing it to be carried out in the place and venue of your choice. You are now able to improve your business' performance by providing these services to all levels and areas of your business in a targeted, flexible, and cost effective manner.
With Our Spirit T.A.P program you can deliver direct and measurable benefits to your business. So what does this mean and what can you do? The T.A.P program is tailored directly to your business. Based on a professional needs analysis, you can offer health and well being program modules and combinations of program modules to individuals and groups in a contingent manner aimed at achieving your organizational goals.
Our services modules range from low cost automated and online fitness assessments right through to customized fitness and nutritional programs, and everything in between. They even include personalized lifestyle programs and adventure activities.
For Example: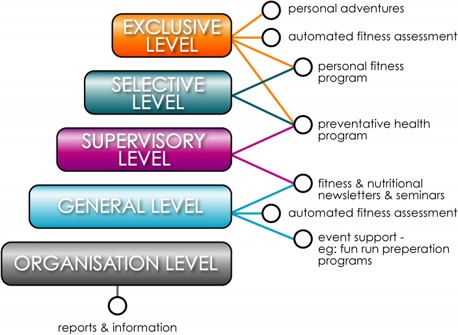 To illustrate, we can provide low cost, automated online fitness assessments and nutritional information, newsletters and seminars generically across the broader employee base and offer personalized and customized fitness programs to key employees or key functional groups, such as Business Leadership or Executive Teams.
Our Spirit's unique approach allows you to mix & match and align your business investment with the individual's or the group's contribution to your business. In other words you put your effort and investment when and where it is most effective for your business, for example to:
attract and retain key individuals

reward high performers

lift performance in key areas

integrate with OH&S activities to reduce or prevent costly injury etc
Our Spirit's approach allows you to do all of this and more. What could be more effective? Investments in health and wellbeing programs have demonstrated their ability to deliver benefit and produce positive returns.
Our recent study surveying 500 companies with existing health and well being programs found a direct correlation between offering such services to employees and improving the business' bottom line. In fact, they state that of those surveyed:
43% reported decreases in sick leave and absenteeism

30% achieved reductions in staff turnover

More than 50% reported increases in productivity

48% achieved reductions in workers compensation claims

More than 50% achieved increased staff morale
Clearly, by investing in your employees' health and well being you are influencing one of your business' most important and influential managerial control levers. Your health and well being investment, through a Our Spirit Health & Lifestyle program, directly addresses an area of importance to all of your employees, their health! In doing so, you will improve your business' performance by attracting the right people, keeping them and getting them more productive.
And, you can start to make improvements and lead the way right now, without any of your industry groups, without your industry regulator and without your competitor!
Well-being Program
The Well-being Program is a cost effective tool that utilizes assessment, health screenings; education sessions; recreational events and follow up coaching support to motivate staff to understand and control the factors that affect their well-being and subsequently their work performance.
T.A.P provides employees with the skills to bring about positive lifestyle changes as well as the reinforcement and support to maintain these changes.
Why not turn on the TAP to vitality by booking a needs analysis today at
info@ourspirit.com.au