ANZAC Kokoda Trek
David Mitchell shares his experience with Our Spirit after completing the 2016 ANZAC Kokoda trek.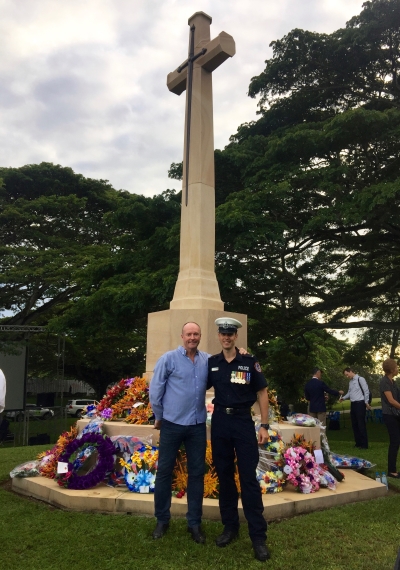 Aidan and the Our Spirit team do not tick things off your personal bucket list. The whole team provide a holistic approach to preparing you to embrace the real meaning of the Kokoda Track; the 'fuzzy wuzzy angels' (legends), The ANZAC's, the sacrifice and intestinal fortitude of so many. 102 successful treks is testament that Aidan himself is a modern day Veteran of the track, although his humble view of his own accomplishments would suggest other wise. Aidan's ability to deliver a truly unique experience is founded on his constant devotion to his personal pledge and not your own demands. That pledge focuses on the true tails of the track, based on the soldiers that sacrificed it all and their personal experiences. Couple this with his heightened ability to understand people's strengths and weaknesses and you have unforgettable journey that will see tears, smiles, laughter, possibly some gastro and most of all everlasting memories.
I had the pleasure to attend the 2016 NSW Police Legacy Trek with a group of amazing people who all had their own amazing stories. The correspondence from the Our Spirit team had me completely prepared for the journey however; Aidan's daily history briefings on the track made the experience one I will never forget. Not once did a person in our group make the journey about themselves and that was led from the front, on the back of Aidan's personal example.
I have attended ANZAC Day dawn services for the last 30 years. This year I was in awe of my surroundings as I participated in the service at Bomana War Cemetery, Port Moresby. Surrounded by the 3824 Commonwealth burials and the thousands of people that turned out was most humbling and an opportunity that I am truly blessed to have been a part of.
I thank Aidan and his team, which consists not only of local legend Papuan people but many people behind the scenes back in Australia. I would not hesitate to continue my journey of understanding into our local history with the Our Spirit team.
'Their name liveth forever more – Lest we forget.'
David Mitchell