Teachers needed for 2018 Kokoda Trek - Click the video image below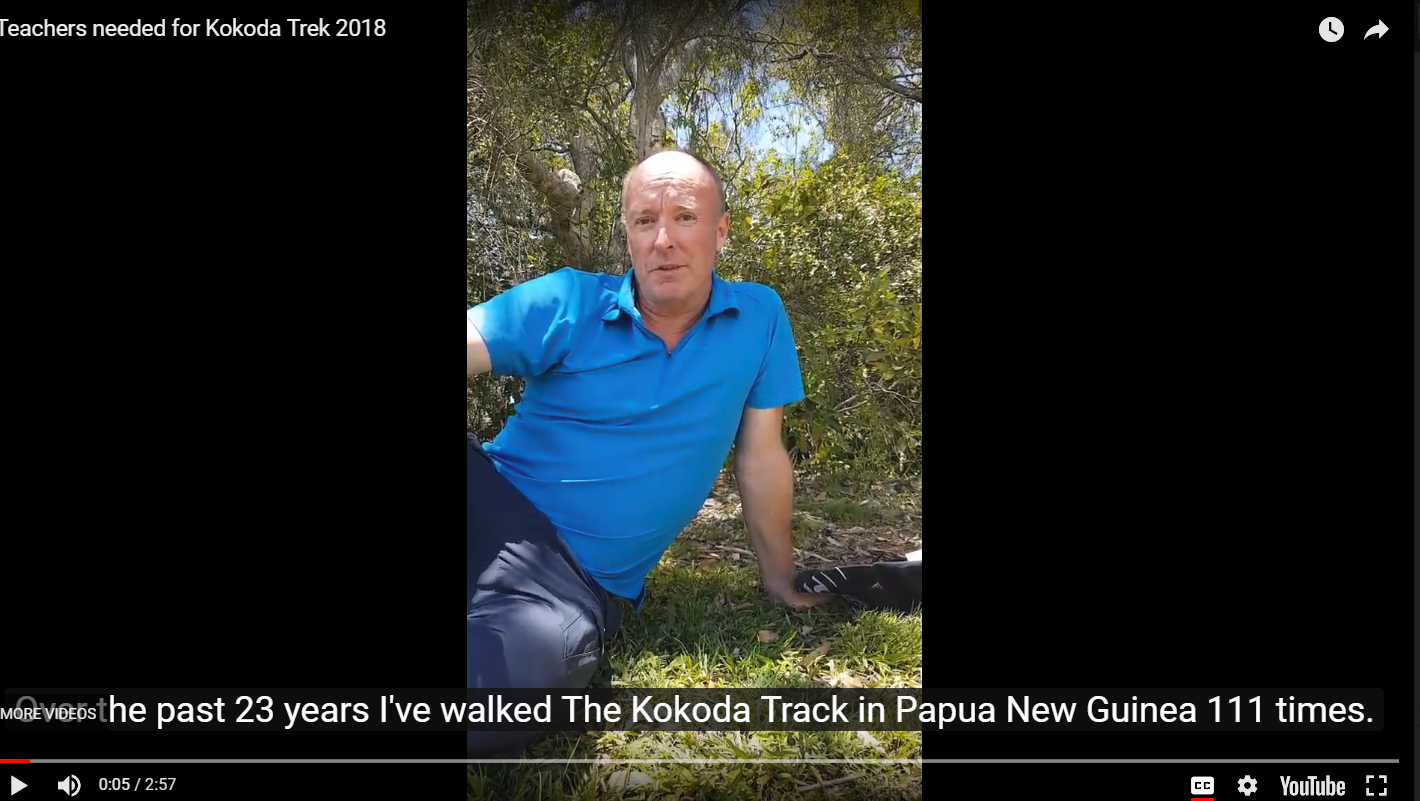 I have led 111 Kokoda treks over the last 23 years. On those treks have been teachers and educators, who always say "Aidan, we need to get this history and these lessons of breaking through our limitations into the schools".
So, in July 2018, I have committed to lead a Kokoda for Educators Trek.
Kokoda is not just about the history, the sacrifice and the mateship, Kokoda is about endurance, overcoming personal limitations, breaking through barriers, discovering your true self and finding your place (and your role) within a tribe.
As the Principal of your school, I'm asking for your help to find those teachers and educators who are ready to take up the challenge - to not only keep the history alive but to become better people, better educators, better leaders.
Are there any teachers (support staff also welcome) within your school who would benefit and who would be ready for the challenge?
As a professional development initiative, it covers off many of the core competencies listed in the Australian PD Standards.
This will not be for everyone. It is NOT a commitment to be taken lightly – it's taking their Professional Development to the extreme.
It's a 3 month lead up process that requires dedication and determination to reach a certain fitness level and the fortitude and resilience to work through the mental and physical challenges along the way. BUT those that take up the challenge will be changed forever.
I encourage you to go to our Our Spirit website and listen to the stories of those who have experienced the Kokoda Track and read about my history and reputation on the Track and with the people of PNG.
The 11 day Kokoda for Educators Trek is being held during the school holiday period in July. The cost is $4,680 and includes a 3 month pre-trek training program, airfares, accommodation, trekking fees and much more. Please check our website for full details of inclusions & exclusions.
I would welcome the chance to talk with you or any of your team about this opportunity.
We're here to answer your call or, if you don't get the chance ahead of the school term, we'll follow you up in the New Year.
IF NOT KOKODA FOR EDUCATORS...
If you're not able to have any of your staff on the Kokoda for Educators Trek, why not consider having me present to your students and/or faculty before end of term or the start of the new year to share the lessons from Kokoda with students and faculty alike?
Or for those wanting a family/community experience somewhere a little closer, why not let your staff and students know about local Club Kokoda Walks (currently available in Brisbane, Gold Coast, Sydney and Melbourne).
Let us know if you'd like details on our monthly treks where you can, with the help of a guide, experience trekking on local tracks, learn about the history of the Australia diggers and meet others from your community. Gold coin donation only to participate.
Aidan
Aidan Grimes
Director and Trek Leader
Our Spirit Adventures